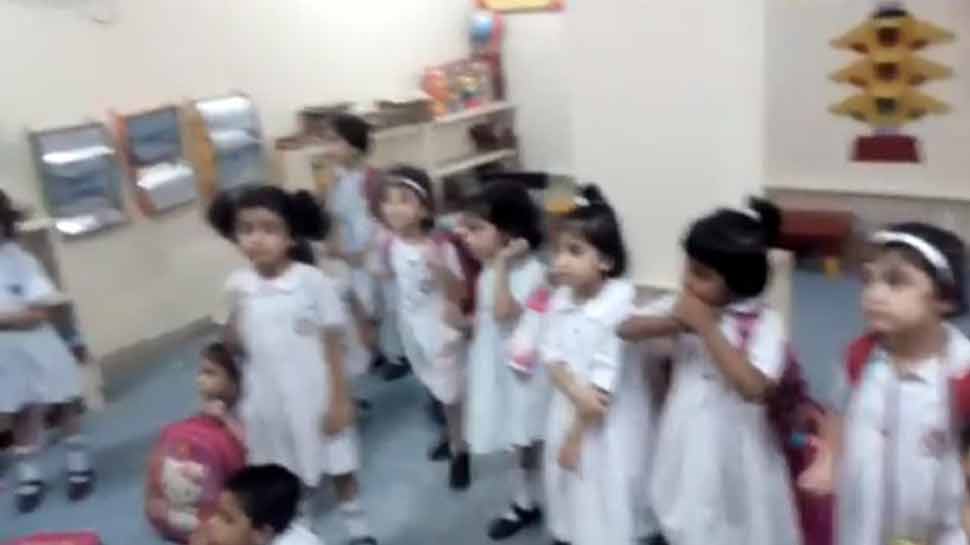 पुरानी दिल्ली
के इलाके में स्थित राबिया स्कूल में फीस नहीं जमा करने की वजह से बच्चियां को स्कूल के बेसमेंट में लगभग पांच घंटे तक बंद रखा गया. ये बच्चियां 40 डिग्री तापमान में भूखी - प्यासी अभिभावकों के आ कर उन्हें छुड़ाने तक बंद रहीं. अभिभावकों को देखते ही बच्चियां चीख - चीख कर रोने लगीं. सभी बच्चियां नर्सरी व केजी कक्षाओं की थी.
बेसमेंट में बाहर से कुंडी लगी थी
पुलिस की ओर से दर्ज की गई एफआईआर के तहत बच्चों को अभिभावक सुबह सात बजे स्कूल में छोड़ कर आए. अभिभावकों के जाने बे बाद इन बच्चों को दोपहर छुट्टी के समय लगभग 12.30 बजे तक स्कूल के बेसमेंट में बंद कर के रखा गया. अभिभावक जब स्कूल पहुंचे और बच्चियां क्लास में नहीं मिले तो उन्होंने बच्चों के बारे में पूछा. स्कूल के स्टाफ ने बताया कि बच्चे बेसमेंट में हैं. अभिभावक नीचे गए तो देखा की वहां दरवाजे में बाहर से कुंडी लगी हुई थी. उन्होंने कुंडी खोल कर बच्चों को निकाला. परिजनों को देख कर बच्चे फूट - फूट कर रोने लगे.
Chief Minister
@
ArvindKejriwal
has sought report on Rabia Public School issue. He has called Secretary and Director education at 12.30 with all facts.
पुलिस ने दर्ज किया मामला
परिजनों की ओर से शिकायत मिलने के बाद पुलिस ने स्कूल के खिलाफ जूवेनाइल जस्टिस ऐक्ट की धारा 75 के तहत मामला दर्ज कर लिया है. इस मामले में स्कूल प्रशासन से पूछताछ की जा रही है. और तथ्य जुटाने के लिए अभिभावकों से भी जानकारी ली जा रही है. परिजनों ने बताया कि बच्चों की हालत देख कर जब इस बारे में स्कूल प्रशासन से शिकायत की गई तो उन्होंने धक्के दे कर स्कूल से बाहर निकालने की बात कही. इसके बाद परिजनों ने स्कूल के बाहर जमकर हंगामा किया।
मुख्यमंत्री ने मांगी रिपोर्ट
राबिया स्कूल की घटना को दिल्ली सरकार ने बेहद गंभीरता से लिया है. इस मामले में दिल्ली के मुख्यमंत्री अरविंद केजरीवाल ने शिक्षा विभाग के सचिव व शिक्षा निदेशक को सभी तथ्यों के साथ दोपहर 12.30 बजे बुलाया है. ये जानकारी दिल्ली के उप मुख्यमंत्री मनीष सिसोदिया ने एक ट्विट के जरिए दी. दिल्ली सरकार इस मामले में कड़ी कार्रवाई के बारे में विचार कर रही है. इस मामले में शिक्षा विभाग के अधिकारियों ने जांच शुरू कर दी है. हालांकि इस मामले पर स्कूल प्रशासन अब तक चुप्पी साधे हुए है. इस मामले में दिल्ली के खाद्य मंत्री इमरान हुसैन ने राबिया स्कूल की प्रिंसिपल से भी बात की. उन्होंने कहा कि सरकार के नियमों के मुताबिक, फीस न देने पर बच्चों को स्कूल में या क्लास में बैठने से रोका नहीं जा सकता.